In this section:
Sign up to our newsletter
Subscribe
Wilsons Auctions is a family owned business, formed in 1936 by William J Wilson and is now directed by his son Ian Wilson.
The company has grown from a single auction site in Northern Ireland to become the largest independent auction company in the UK and Ireland with over 300 members of staff and an annual hammer total in excess of £250 million.
Wilsons Auctions has sixteen sites, including eight branches in Belfast, Portadown, Dalry, Dublin, Telford, Queensferry, Newcastle-Upon-Tyne and Maidstone. It is the only auction company in the British Isles to offer a national coverage allowing it to draw on experience, resources and ideas from all of its branches.
The management team are fully trained in their particular areas of expertise and pride themselves in offering a service second to none.
Wilsons Auctions holds over 1000 auctions annually, auctioning everything from cars to vans, plant and machinery & property to general goods, as well as the more luxurious items to include; planes, yachts, gold bars, supercars, designer goods and prestigious watches.
Wilsons Auctions manages the whole asset realisation process for its clients which includes; collection, valuation, storage, re-marketing and auctioning of assets.
Wilsons Auctions has become the leading asset realisation provider within the public sector, working with over 40 law enforcement agencies and over 170 government bodies across the UK and Ireland and is proud to be responsible for returning in excess of £80 million, in recent years, back into the public purse.
Wilsons Auctions Limited is a company registered in Northern Ireland.
Company Registration No. NI011967
Registered Offices: Wilsons Auctions, 22 Mallusk Road, Newtownabbey, Northern Ireland, BT36 4PP
Wilsons Auctions (Telford) Limited is a company registered in England & Wales.
Company Registration No. 01510955
Registered Offices: Wilsons Auctions, 2 Trech Lock, Telford, TF1 5YL
Wilsons Auctions are members of the following professional bodies:
 National Association of Motor Auctions
Institute of Professional Auctioneers and Valuers
National Association of Valuers and Auctioneers
National Association of Estate Agents
Royal Institute of Chartered Surveyors
Confederation of European Estate Agents
We are the only auction house in the UK & Ireland to hold these accreditation's and we operate to the Codes of Practice of all these professional bodies.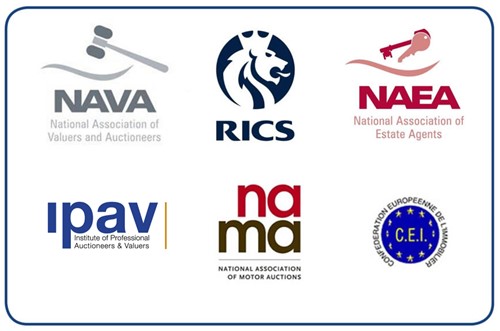 Wilsons Auctions hold the following UKAS Approved Certification  
BS EN ISO 9001:2008        Quality Management System
BS EN ISO 14001:2004      Environmental Management System
OHSAS 18001:2007           Health & Safety Management System
ISO/IEC 27001:2013          Information Security Management System (Belfast Branch)