The auction will take place via an on-screen presentation beginning with small tools (Lots 1-150), leading into plant, machinery and HGVs (Lots 151-300), and finishing with the remaining small tools (Lots 301-500+). Stock will be updated daily with a full stock list available prior to the auction. Lot numbers are subject to change prior to auction day. 
To register to bid either online or in person, follow our simple registration process below:
Complete, along with 2 forms of photographic ID and return to hannahmoore@wilsonsauctions.com or danwilliams@wilsonsauctions.com
Once we have your documents, one of our staff will contact you via the information given or else you can give our Queensferry branch a call to leave your £500 deposit over the phone. Alternatively, you can request our bank details to complete a bank transfer.
Await an email with your login details or collect your bidder's card!


Accepting Entries
Do you have commercial assets to sell? We offer a straightforward process and can arrange the collection and delivery of your items. Get in touch with us today to discuss selling at our next available sale.
Viewing Times
Wednesday 11th December, 09:00 until 17:00
---
Enquiries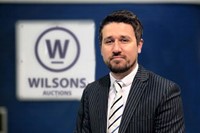 Dan Williams
Plant, Machinery & Commercial Auctioneer
Tel: 01244 812811
Mobile: 07912 044945