The auction will take place virtually online via LiveBid beginning with small tools leading into plant, machinery and HGVs. Stock will be updated daily with a full stock list available prior to the auction. Lot numbers are subject to change prior to auction day. 
Please note we have suspended live sales and currently operate online sales only. Any collections or viewings MUST be booked in advance with Dan Williams.
Accepting Entries
Do you have commercial assets to sell? We offer a straightforward process and can arrange the collection and delivery of your items. Get in touch with us today to discuss selling at our next available sale.
Enquiries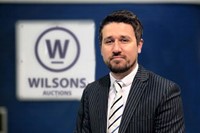 Dan Williams
Plant, Machinery & Commercial Auctioneer
Tel: 01244 812811
Mobile: 07912 044945