To register to bid either online or in person, follow our simple registration process below.
• Download our attached registration form
• Complete, along with 2 forms of photographic ID and return to hannahmoore@wilsonsauctions.com or danwilliams@wilsonsauctions.com
• Give us a call on 01244 812811 to leave your deposit over the phone. Alternatively, you can request our bank details for any bank transfers.
• Await an email with your login details or organise to pick up your bidder's card!
Deposit: £500.00
*Fully refundable if no items are purchased or can be allocated towards the end bill*
Accepting Entries
Do you have commercial assets to sell? We offer a straightforward process and can arrange the collection and delivery of your items. Get in touch with us today to discuss selling at our next available sale.
**PLEASE NOTE: ONLY LOTS BETWEEN 7000 AND 9000 WILL BE OFFERED ON THE DAY OF THE AUCTION**
Viewing Times
Wednesday 10th July, 9am - 5pm
---
Enquiries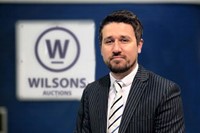 Dan Williams
Plant, Machinery & Commercial Auctioneer
Tel: 01244 812811
Mobile: 07912 044945