On Friday 11th October, St Anne's Cathedral will welcome 400 guests for a gala evening with awe-inspiring entertainment, top-class food & fundraising. The evening is hosted by Fisherwick Presbyterian Church & St. Brigid's Parish both neighbours in South Belfast who are determined to look outside of each other's boundaries and work together in Christian Friendship to raise funds to support communities in South Belfast.
Both churches recognise the difficulties that many in their community face: the young struggling against the challenges and temptations of life; families facing pressures from many directions; older folk often lonely; carers trying to meet abiding needs of loved ones; those suffering from debilitating illnesses…the list seems almost endless.
Their goal in joint partnership is to reach out further into and across our communities in South Belfast, to enhance the faith lives and human needs of those who live among us. With your support the people from both our churches will have additional resources to do this work and in so doing to transform lives.
Wilsons Auctions are delighted to be the auctioneers at this very worthwhile event. Bidding will take place at the gala evening but everyone has the opportunity to bid on the fantastic Lots in this unique auction by emailing a proxy bid to the auctioneer, Ricky Wilson, at rickywilson@wilsonsauctions.com. Proxy bidders will be required to complete a registration form and pay a deposit of £500 (via credit / debit card) which is refundable if no purchase made.
Enquiries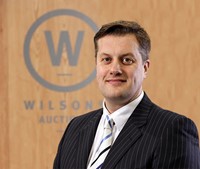 Ricky Wilson BSc (Hons) MRICS, MSCSI, MIPAV
Director/Auctioneer/Chartered Surveyor
Tel: 07733100854
Mobile: 00353 87 286 7500