Our Car Auction in Telford starts at 4pm every Friday and features entries from local car dealerships, car supermarkets and both trade and private entries. Buying & selling is open to both the general public & motor trade.
Stock will be updated closer to the date of the auction. We welcome viewings ahead of every auction, please refer to our opening hours. If you have any questions or queries relating to our entries, please do not hesitate to contact us.
We lot the auction so you can easily identify the vendors:
1    –  349: Main Dealers / Trade / Private
350 – 399: Greenhous Group 
400 – 599: Available Car 


Registration closes at 10am on Friday 3rd July
Payments: All lots must be paid for no later than two working days after purchase. BACS payments only
Collections: By Appointment Only, arranged via email (paulmallen@wilsonsauctions.com, natashamoran@wilsonsauctions.com, tonywilliams@wilsonsauctions, )
Terms & Conditions: All lots are subject to normal buyers fee. All lots are 'Sold As Seen' . All Purchasers are deemed to have satisfied themselves by inspection or otherwise as to the description,size or quantities of any lot. Our standard terms are conditions apply.
Enquiries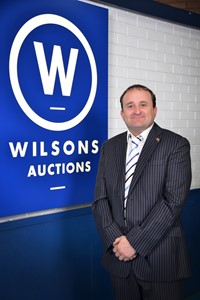 Tony Williams
Assistant Manager
Tel: 01952 257751
Mobile: 07967 328657