Bank Direct Car Auction
This public auction will be held at Wilsons Auctions Dublin Auction Complex Kingswood interchange, Exit 2 Naas Road Dublin 22 every Tuesday from 6pm and buying & selling is open to everyone!
Did you know that we can transport vehicles for you? Whether delivering vehicles bought at auction or collecting vehicles you have to sell, ask for our Transport Department on 01 464 2800.
Enquiries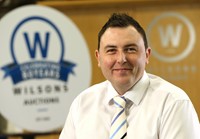 Jason Delaney
Branch Manager
Tel: +353 (1) 464 2800
Mobile: +353 (0) 86 7738 508